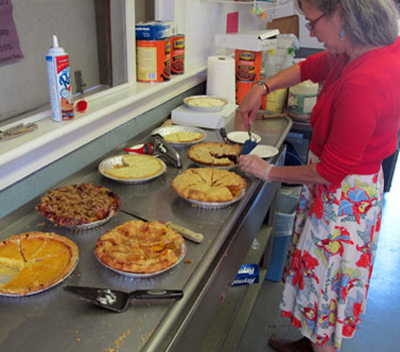 History of the Rockbridge Pie Festival:
The Rockbridge Pie Festival came into being when a group of Rockbridge Aquatics Center supporters were looking for a fundraising event that would be enjoyable for the community.
Why Pie? Pie is the quintessential American dessert. Making them is almost as fun as eating them. Pies are happy, homey, and communal. Many of us in the group have fond memories of learning to bake them with our mothers or grandmothers and of teaching our children our pie baking secrets. We bake them for family picnics and barbeques and offer them as comfort in times of illness or loss
For some of us baking a pie is the happy extension of our gardens. Strawberries, blueberries, raspberries, peaches, blackberries, cherries, apples, pumpkin, sweet potato, and wineberries are just a few of the bounty that ends up as pie. It is no wonder that pie is the happy conclusion to our Thanksgiving meal.
Pies are the perfect offering and our festival the perfect celebration of pie and community. We hope you enjoy it.
Rockbridge Pie Festival Committee:
Leslie Ayers, Ellen Brock, Felicia Bush, Pat Delaney, Debbie Desjardins, Valentina Dimitrova-Grajzl, Monika Eaton, Jan Lowry, Cindy Mullen, Marty Rockett, Joellyn Schwarzmann, Melody Tennent, and Irene Townsend.
All proceeds from this event will be used to support The Rockbridge Aquatics Center and its programs.